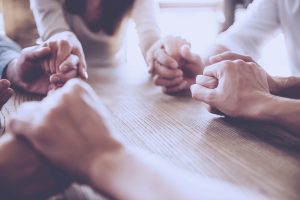 We ask Your guidance to inspire us to offer Friendship as you did to all who cross our paths in life. We ask Your prayers to inspire us to offer the hand of Unity to all. We ask Your love to inspire us to give Christian Charity to all. We as members of the Ladies Ancient Order of Hibernians seek to follow in Your path of Friendship, Unity and Christian Charity. We ask that you bestow Your blessings upon us through Christ our Lord.
Amen
"In Action Is Love – And Love in Action is Service" ~ Blessed Mother Teresa of Calcutta
Michigan is blessed to have 9 LAOH Divisions that demonstrate our Catholic faith and share their resources across the state with numerous organizations. These good works include working at local food pantries and soup kitchens,  collecting donations for the homeless and needy in our communities,  joining prayer groups to support Life,  hosting events that benefit families and women in need and numerous other activities.
We are equally blessed to have Fr. Brendan McCarrick, SAC as our State LAOH Chaplain. As such, we support his order of Irish Pallottine Fathers located in Wyandotte, MI through mass card donations and supporting their many mission fundraisers such as the Pallottine Dinner Dance in November each year. A few of our LAOH sisters have received the Pallottine Woman of the Year award at this fun event.
More about their founder St. Stephen Pallotti's life and times, his spirituality, and his missionary charism and zeal can be found on their website.  https://www.irishpallottines.org/